Metro Plus
Bangalore
Chennai
Coimbatore
Delhi
Hyderabad
Kochi
King Singh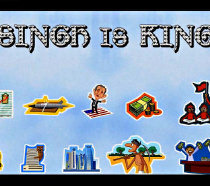 Gaming The game is a tongue in cheek look at politics
Games2Win.com has released Singh is King, an exciting online game, starring the man who is fearless against all obstacles - Manmohan Singh. True to its tongue-in-cheek approach, G2W has created an entertaining and topical game. Singh is King is a hi larious take on the Prime Minister's action-packed political career. Users take on the avatar of Manmohan Singh and must race towards the crown against all odds.
With the opposition party chasing Singh from one end and several ferocious obstacles hampering the escape – users must jump, duck and pull all stunts to avoid the barriers and reach the throne – that finally makes him King.
Obstacles in the game are factual incidences witnessed on the Indian socio-political scene such as the Indo-US nuclear deal, farmer suicides, rising inflation figures along with rising oil prices, crashing stock markets and allegations of bribing MP's.
So Log on to Games2Win.com to http://www.games2win.com/en/miscellaneous/miscellaneous_singh_is_king.asp and get your front seat ticket to this season's coolest game release!
Printer friendly page
Send this article to Friends by E-Mail
---
---
Metro Plus Bangalore Chennai Coimbatore Delhi Hyderabad Kochi